We now have data for a full month after the SIP (Shelter In Place) Order was issued in mid March. Now we have data showing how Santa Clara County was affected by the drastic changes to how we conduct real estate now in the post pandamic world. To see the previous month's data click here. The previous month's data is not fully indicative of the market becasue it mixes both pre and post SIP data.
We are not in the heart of Spring Selling Season, the inventory and the amount of transactions should normally be expanding at a rapid pace as sellers and buyers come out to take advantage of the warming season. With current low rates, the market activity should be booming.
Single Family Residences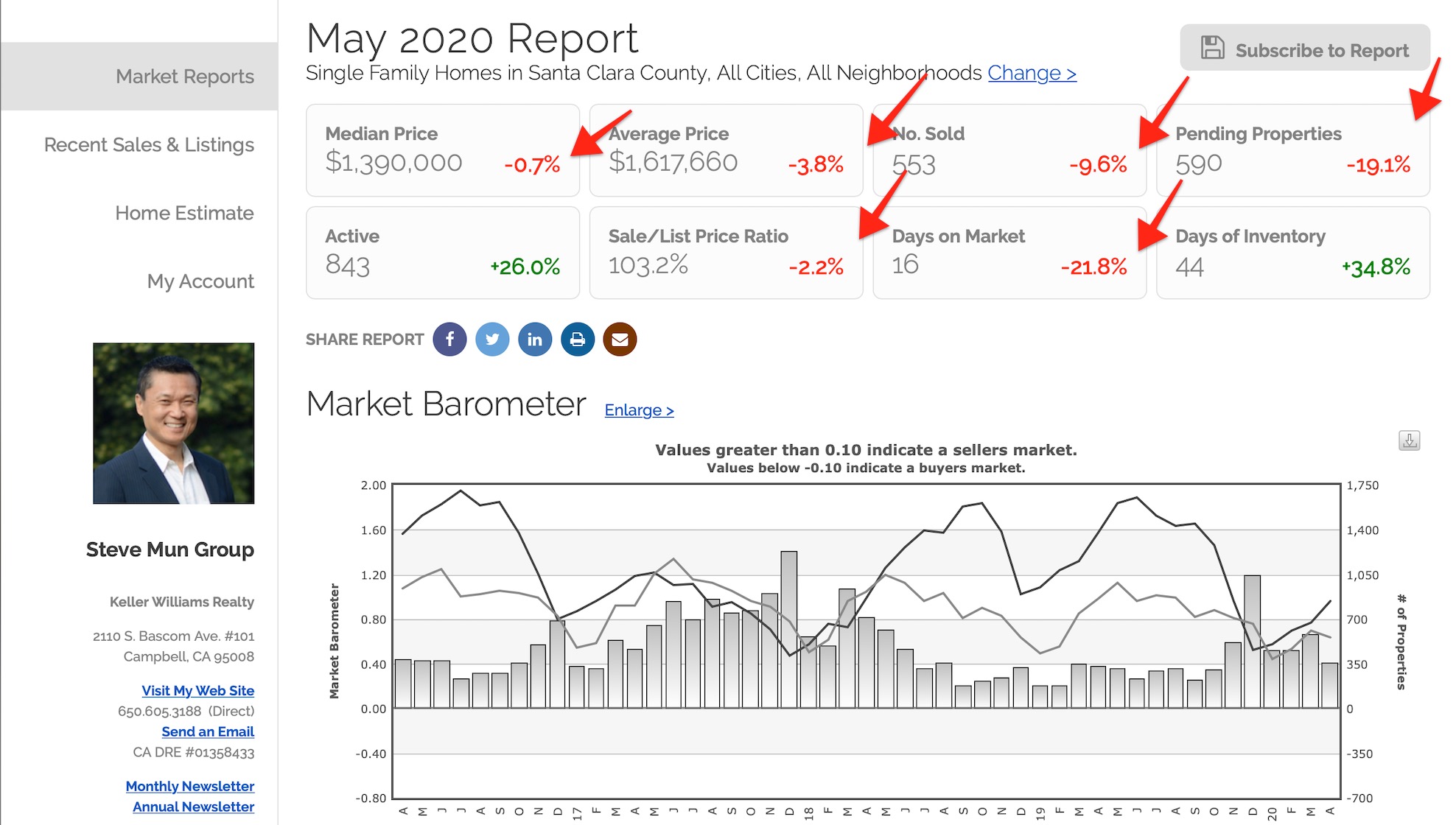 Previous full month before SIP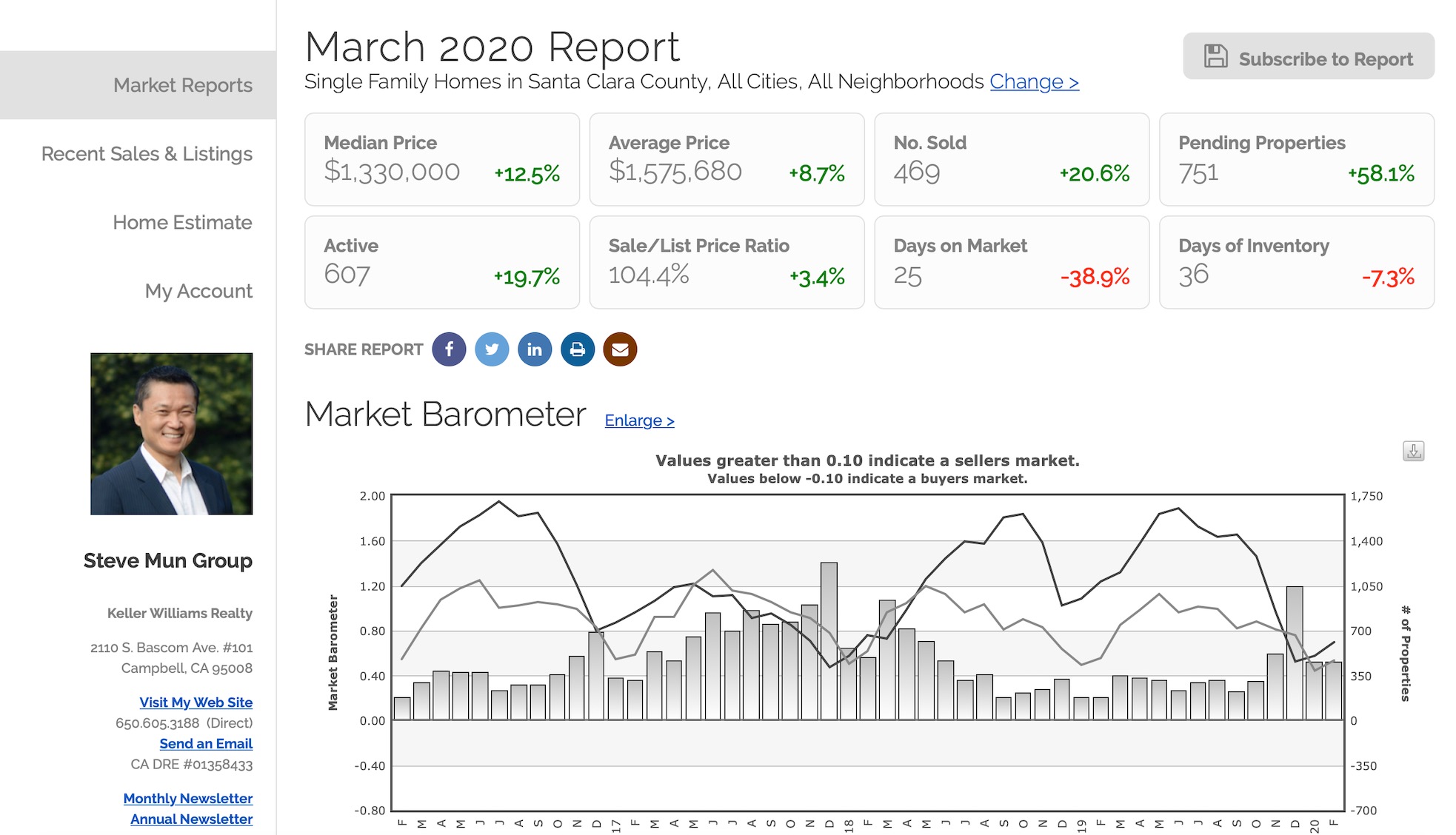 ACTIVE
April 843
Feb 607
# Sold
April 553
Feb 469
PENDING
April 590
Feb 751
DAYS ON MARKET (Irrelevant because this has been suspended since SIP was initiated)
DAYS OF INVENTORY
April 44
Feb 36
SALE/LIST RATIO
April 103.2%
Feb 104.4%
With only one full month of data it is hard to establish a trend or pattern, but here is what is noticeable. Pricing is dropping a bit as the SALE/LIST RATIO is dropping and DAYS OF INVENTORY is increasing from the earlier month. Generally most of the indicators are falling or rising in unfavorable directions.
The inventory or ACTIVES certainly have increased from month to month as expected. Nothing surprising there.

What is clearly noticeable is that PENDING actually dropped in raw numbers compared to two months ago. Pendings should also be increasing in ratio as inventory increases. More inventory, but more buyers are coming into the market to meet the selling season with historically low interest rates.

Same is true with DAYS OF INVENTORY. As we enter the hot selling season and inventory increases, we should be seeing this number decrease as the demand for properties should be absorbing the inventory that is hitting the market with favorable rates. Something is causing the market not to absorb the inventory in a quick manner. SIP and indecision as to what to do seems to be the logical answers.
Condo/Townhomes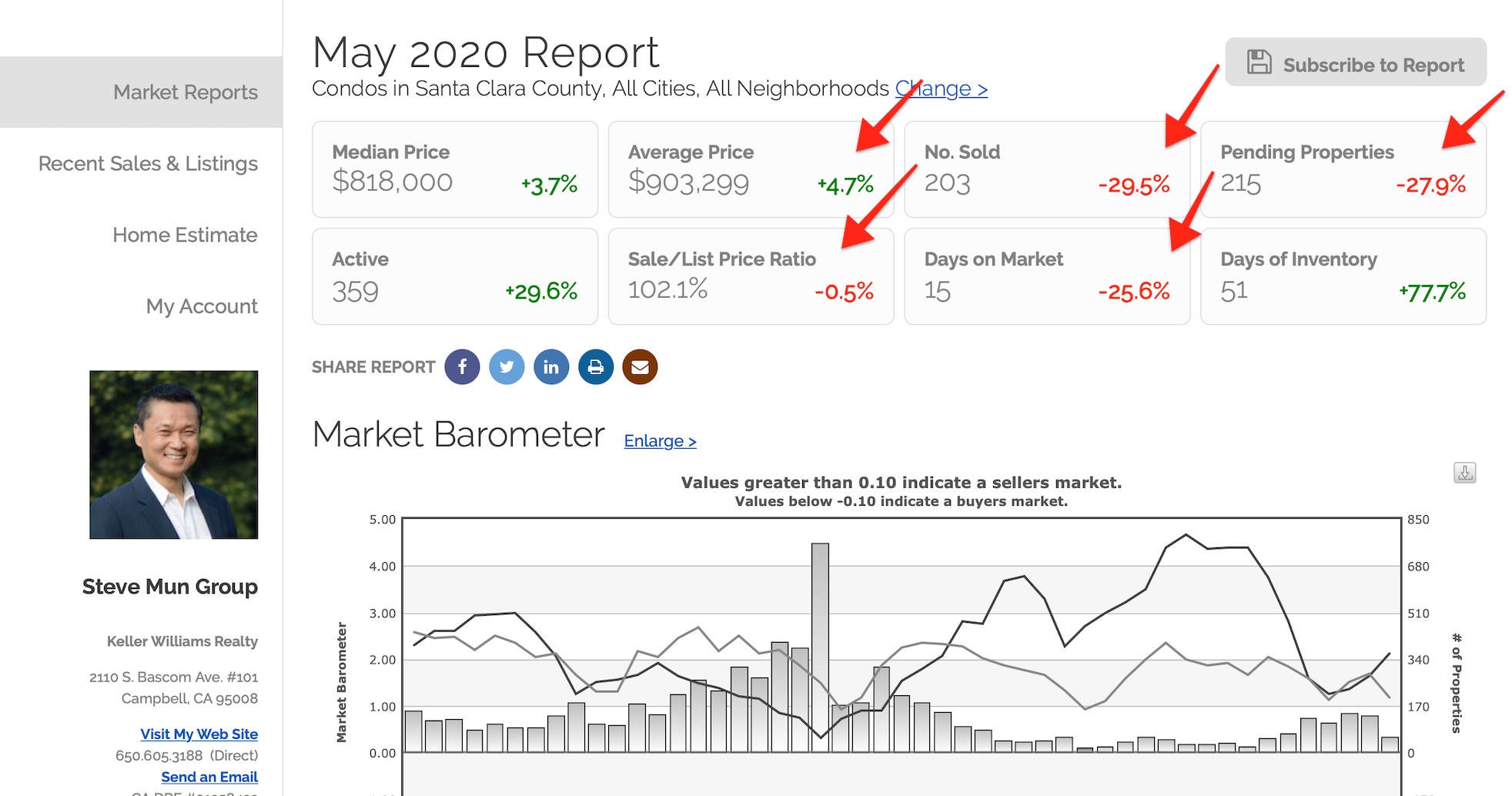 Previous full month before SIP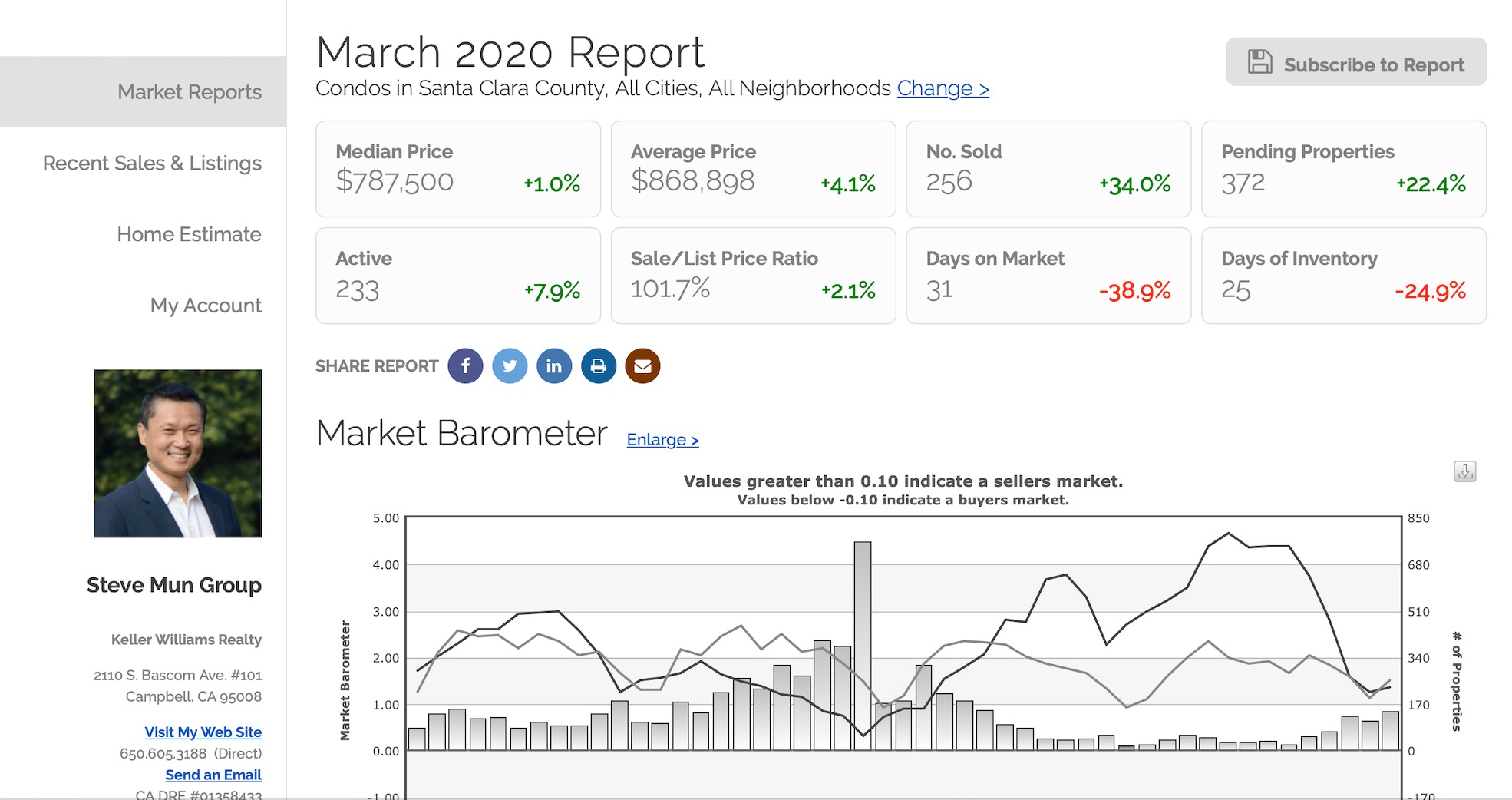 ACTIVE
April 359
Feb 233
# Sold
April 203
Feb 256
PENDING
April 215
Feb 372
DAYS ON MARKET (Irrelevant because this has been suspended since SIP was initiated)
DAYS OF INVENTORY
April 51
Feb 25
SALE/LIST RATIO
April 102.1%
Feb 101.7%
Similar trends here as Single Family Residences. Supply of homes is increasing but the demand (Sold and Pending) is not meeting the increase in activity. PENDING here is dramatically lower by some 42%. Very noticeable drop.

Accordingly, the DAYS OF INVENTORY has shot up by more than double from 25 days to 51 days from only two months ealier. Supply is increasing and taking dramatically longer to sell. Meaning buyers are not in a rush to take the increasing supply off the market even with low rates.

The other important factor here is that for several years we have been seeing a significant increase in condo/townhomes being built around Silicon Valley to meet housing demands. So the stop in construction and unsold inventory of condos and townhomes which are typically sold direct to consumers from the builders are now entering the MLS supply becuase their in-house sales staff are having difficulty selling. This explains the dramatic increase in inventory for this sector compared to Single Family Residences.
One full month of data with SIP in place is not enough to clearly see a trend, but we are seeing some dramatic indicators shift in the last couple of months.
Should be interesting to see next month.
#siliconvalleyrealestate #realestatenews #realestatesales #siliconvalleyrealestatemarket #siliconvalleymarkettrend #santaclaracountymarkettrend #siliconvalleymarketreport #santaclaracountymarketconditions #kwsv #kellerwilliams #stevemungroup #whoyouhireabsolutelymatters #work #realtor #realestate #siliconvalleyrealestate