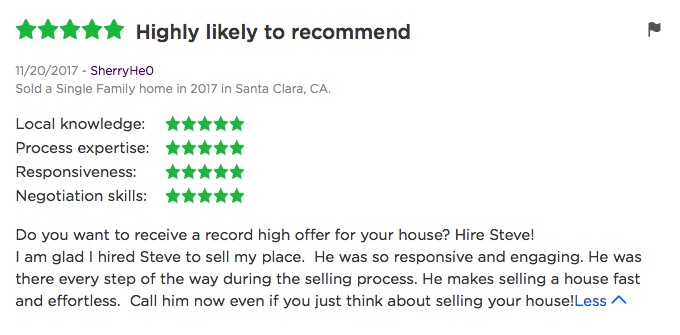 The reality these days in the age of social media is that client reviews matter in making purchasing decisions. As a consumer, I use customer reviews in Amazon to help me decide what to buy or use reviews to decide what to watch on Netflix. These are not perfect methods but certainly helps me navigate through the labyrinth of products and services with insights from others who have actually purchaed and used the products or services.
The interesting thing about writing reviews is that there are two types of people who write reviews: those who love the product or service or those who hated them. Not much in between. Perhaps it is because it is a hassle to take the time to register and write something unless you have strong feelings. That certainly explains why I write reviews.
This is especially true when you are making a decision on hiring someone who may be helping you buy or sell the single most expensive possession. You may not be making the hiring decision solely on these reviews, but they may help you get insight into whether the clients had an experience worthy of taking the time and effort to write about them. Especially from those who are repeat clients. And take it to another step and ask for contact information from past clients to verify that the reviews are accurate.
Do yourselves a favor, if you are in the market to buy or sell, get information about how past clients felt about the person whom you are considering to hire. In the most expensive real estate market in the nation, who you hire absolutely matters.
https://www.zillow.com/profile/SteveMunGroup/#reviews
#clientreviews #zillow #siliconvalleyrealestate #realestatenews #realestatesales #siliconvalleyrealestatemarket #siliconvalleymarkettrend #santaclaracountymarkettrend #siliconvalleymarketreport #santaclaracountymarketconditions #kwsv #kellerwilliams #stevemungroup #whoyouhireabsolutelymatters #work #realtor #realestate