It was Apple, then Google, now Microsoft.......
Major tech behemoths are purchasing lots to build out future campuses or work locations in San Jose. Microsoft has just purchased 65 acres of raw land off 237 near McCarthy Blvd. for $73M to build a light industrial facility which will bring hundreds of jobs.
Nearby, there are already companies like KLA-Tencor, SanDisk, Brocade, Tivo, ST Electronics and Marvell Semiconductor which have large foot prints. And close by at the current Santa Clara Golf Course, the largest project in Silicon Valley is continuing to move forward.
This area of Silicon Valley, the intersection of North San Jose and Santa Clara is turning into a huge future development area. Lots of jobs and lots of housing will be needed to support those jobs. When the economy heats up like this and employers are ramping up for new hires, the future of housing certainly looks equally as bright.
http://www.mercurynews.com/2017/09/29/exclusive-microsoft-buys-north-san-jose-land-campus-eyed/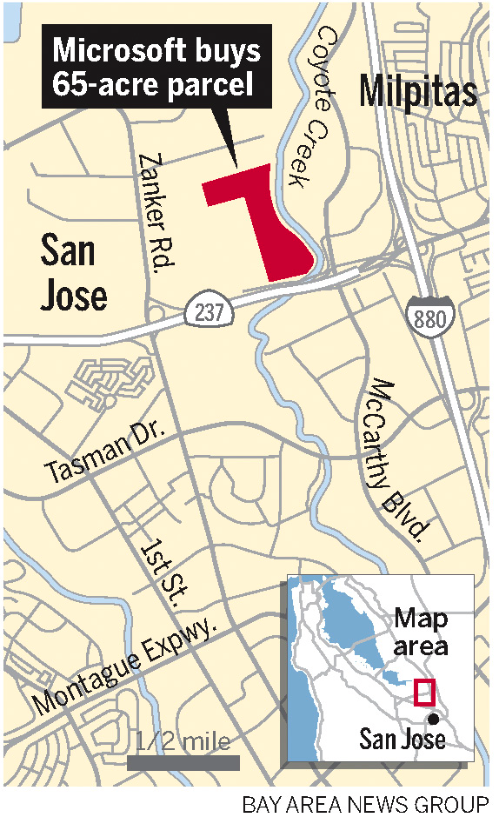 #rivermark #rivermarkarea #rivermarkhomes #rivermarkcondos #95054 #realestatesales #luxurycondos #rivermarktownhomes #justlisted #newlistings #justsold #homeforsale #kwsv #kellerwilliams #stevemungroup #whoyouhireabsolutelymatters #work #realtor #realestate