Clients have been asking about why there is such high demand and why prices are rising so quickly. The answer is severe lack of inventory. The question about why there is such a lack of inventory is a question for another day.

In the Real Estate space, all of us Real Estate Professionals are talking about the severe lack of inventory and how that is causing the cut-throat competition which is spiking up prices. It is one thing to hear about lack of inventory and quite another to actually see the data. So rather than just explaining with anecdotes, I thought it would be better to look at the raw data this time.
I decided to review the data for the monty of August for the past three years to get good comparison data.
Sept 2017 for All of Santa Clara County (Single Family Homes)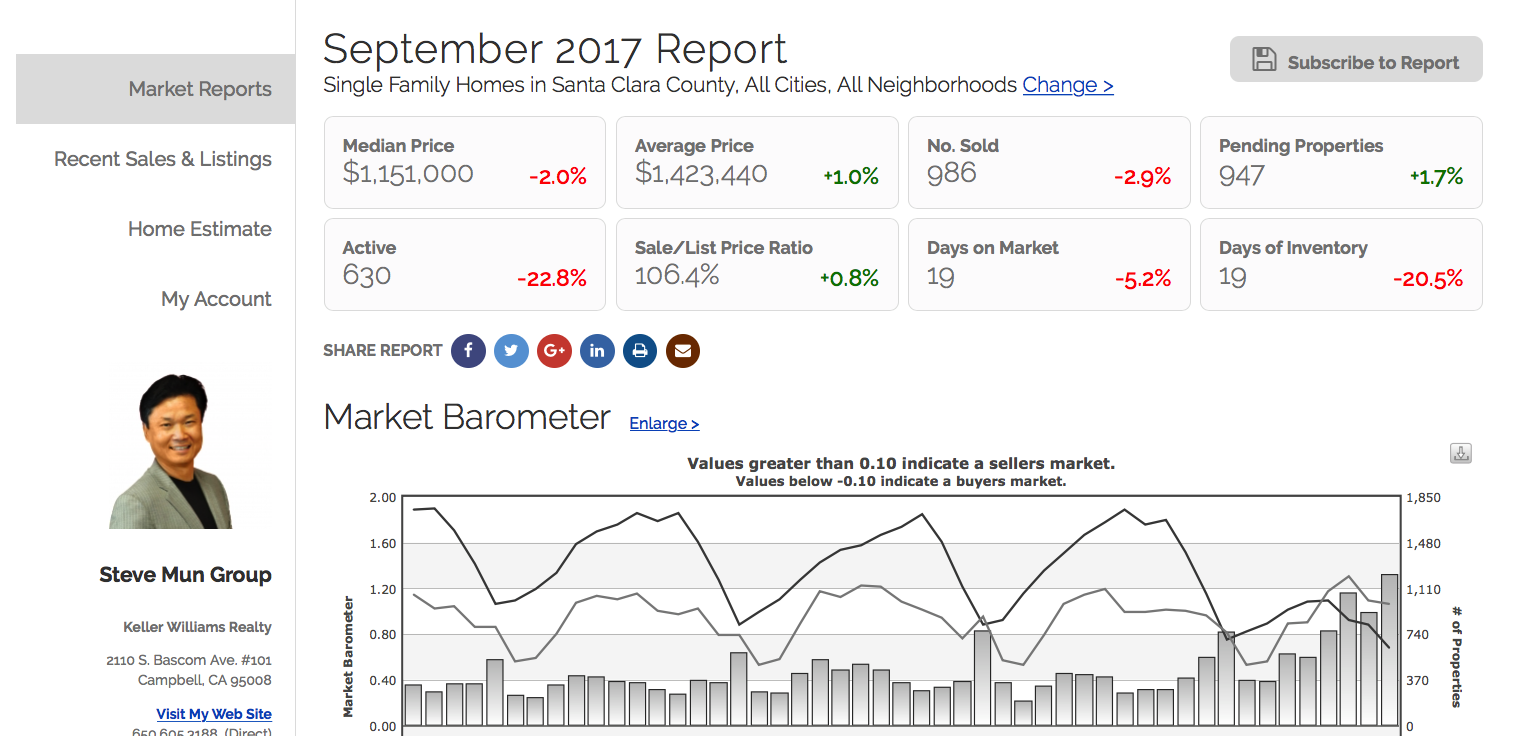 Active (avaialable at that moment) listing 630
Pending (in contract at that moment) listings 947
Days of Inventory (# of days to deplete actives) 19
Median price $1,151,000
Sept 2016 for All of Santa Clara County (Single Family Homes)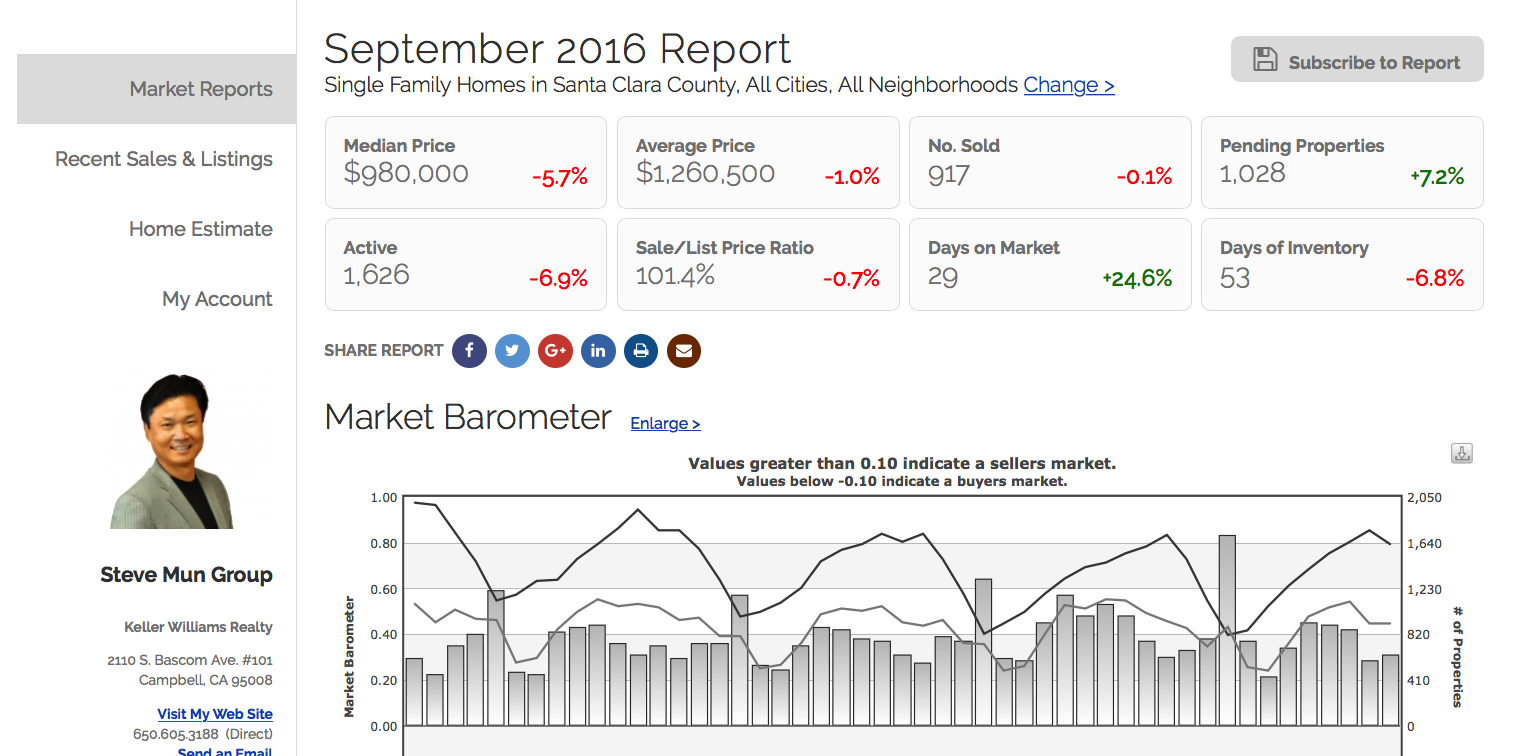 Active listings 1,626
Pending listings 1,028
Days of inventory 53
Median price $980,000
Sept 2015 for All of Santa Clara County (Single Family Homes)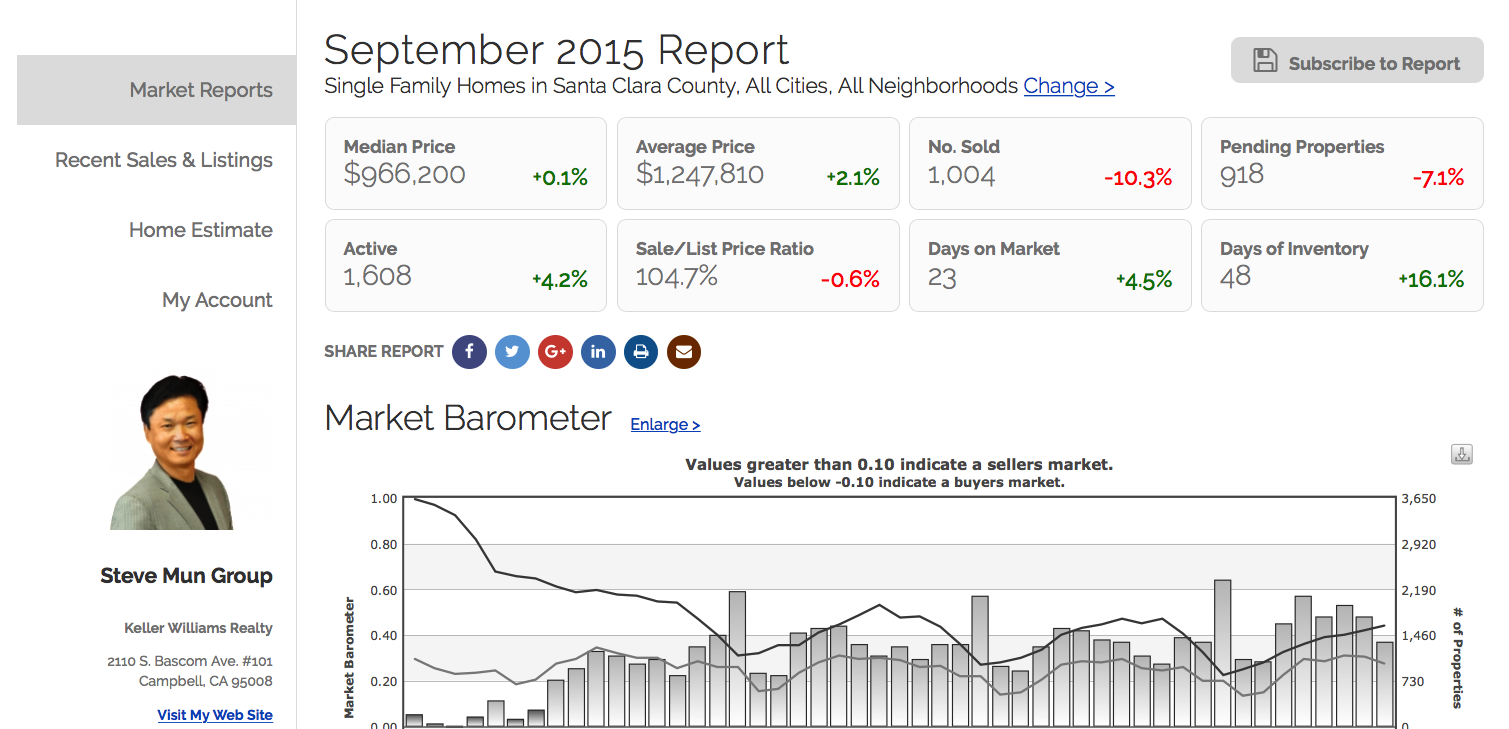 Active listings 1,608
Pending listings 918
Days of inventory 48
Median price $966,200
Just look at some of the numbers above. It's simple economics: low supply is driving up demand at an accelerated pace.
At the end of last month, there was in all of Santa Clara County, only 630 Single Family Homes for sale or only about 39% of what was for sale the same time in 2016 and 2015. Yes, 39% of inventory compared to previous two years is a severe shortage.

This trend is consistent for most of the year. The highest inventory this year was at the end of May when the total actives were 1,011. The highest actives were 1,747 at the end of July 2016 and 1,709 was the highest at the end of September 2015. So this year's high was about 700 units shorter than the previous years,
But equally significant to consider is the Pending Properties or the demand. How quickly were properties being gobbled up compared to the rate at which they were coming on market. In August 2017, demand (rate of consumption or pending) was 150% of supply (active). In 2016, it was 63% and in 2015 57%.

To put is simply, the inventory has been so low this year, that demand (or pending) is outpacing the supply (active) 6 out of 8 months so far. That was not the case in the previous two years. In the previous two years, the demand had never overtaken the supply in Santa Clara County.
Given this severe lack of inventory which is driving up demand, it should be quite easy to understand how the median price of a home went from $966,200 to $980,000 to $1,151,000.
Whether we believe it or not, lack of money is not the problem in purchasing homes in Silicon Valley; the lack of inventory is.
This is the overview of Santa Clara County as a whole. If you are interested in getting information about your particular city, please contact us.

if you would like monthly copies of these report delivered by email, please go to stevemun.rereport.com

Registration to receive these reports is on the top right side.
#siliconvalleyrealestate #realestatenews #siliconvalleyrealestatemarket #siliconvalleymarkettrend #santaclaracountymarkettrend #siliconvalleymarketreport #santaclaracountymarketconditions #kwsv #kellerwilliams #stevemungroup #whoyouhireabsolutelymatters #work #realtor #realestate