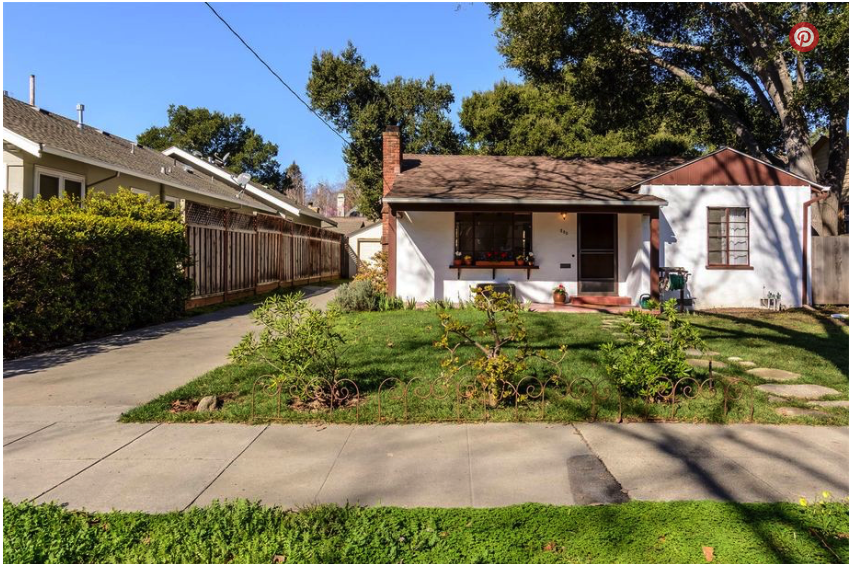 http://sf.curbed.com/2017/4/26/15439048/silicon-va...

"Find me a tear down." Probably a third of buyer clients will say this thinking that they will be able to pick up something below list price and use sweat equity to build their dream home in their desired neighborhood with a small renovation budget.
In the age of HGTV and the other mostly Canadian Shows pushing this fantasy, many buyers buy into this myth - at least here in Silicon Vally. Why is this a myth here?
Probably the two most important factors are:
1. This is often the hottest real estate market in the nation
2. For many buyers, money is not an issue, lack of inventory is the issue. So if you are a buyer who has a limited budget, you are competing with someone who may not have that same issue. Winning bids are so high because the buyers know next year it will be even higher in premier area.

Let's look over the case above.


Listed at $1.927, sold for $2.550. It is one of the more desirable area even in Palo Alto and did have a large 7500 sf lot for the area. In this case, the buyer was looking at the value of the land on which they will obviously build something much nicer and inline with the value paid.

This may be an extreme case, but this scenario plays out repeatedly in the top areas and neighborhoods in the Bay Area. Unless you see this day in and day out, it is hard to put your mind around this concept. Real Estate Professionals understand. This is why we try to educate and bring our clients into proper contextual understanding of the marketplace and more specifically about the area in question.

Does this mean there is no way for buyers with limited budgets to get into something they like? No. Absolutely not the case.
What it means is there has to be a plan to get the property you want and can afford.
1. The first thing to understand is that in Silicon Valley, we are more times in a seller's market than a buyer's market. This means multiple offers is the norm. Especially in the premier areas and neighborhoods. If you do not want to compete for homes, then focus your attention to areas that are not as high in demand.
2. If you must buy in the premier areas, then reduce the list of items you are seeking. Rather than looking for 4 bedrooms, perhaps 3 bedrooms, look for smaller sized lots that you would prefer or instead of looking at turn key options, you can open yourself up to homes that may need a bit of work. There are many factors which can be adjusted to meet your needs. This is where putting together the plan to get your home is vitally important.
3. Look at homes that are listed at lower price points with the understanding that you must factor in overages if you choose to compete in the premier areas. This is quite the norm in Silicon Valley.


Every buyer's situation and needs are different, so we cannot simply assume these are the only solutions. This is why you need to sit down and have a long and detailed conversation with your agent so that they can help craft a workable plan. Simply running around making offers and hoping for good luck does not work.

Understanding the current marketplace will save you - the buyer - both time and money. Eventually all buyers learn this lesson. But I am trying to help expedite the learning process so that valuable time is not wasted. Wasting time making offers that will not work is burning through opportunities. That perfect property for your needs may slip away because you were not adequately prepared to make an offer that would be more likely be accepted. You are wasting money because that next property that comes on market will most likely be higher priced the next time around and so on and so on.

A good Real Estate Agent's value is not in opening doors or simply writing offers with no input. The true value of a good Real Estate Agent is to educate and negotiate the best terms for their buyers so they are not wasting time and eventually money.

#siliconvalleyrealestate #realestatenews #realestatesales #siliconvalleyrealestatemarket #siliconvalleymarkettrend #santaclaracountymarkettrend #siliconvalleymarketreport #santaclaracountymarketconditions #kwsv #kellerwilliams #stevemungroup #whoyouhireabsolutelymatters #work #realtor #realestate